If you have found yourself searching for a great new elliptical trainer, but really just are not sure where to start your search, you have most certainly come to the right place. In this brief article we will be reviewing two great models that you just may want to take into consideration in terms of ultimately purchasing. The two models are the Precor AMT 100i Adaptive Motion Trainer and the Precor AMT 885 elliptical trainers, and we will be examining them a bit more closely so that you can ultimately make the best decision and see if perhaps one of these elliptical trainers may be a good fit for your personal fitness needs.
Precor AMT 100i Adaptive Motion Trainer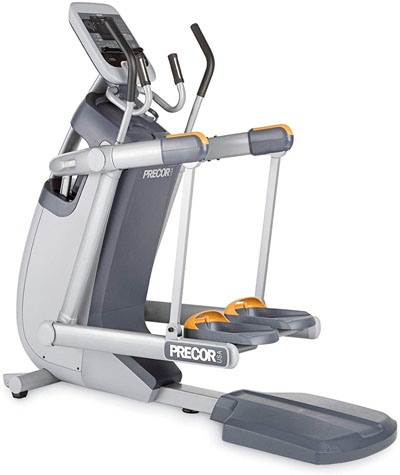 Precor has gone above and beyond in raising the bar of fitness with regards to the Precor AMT 100i Adaptive Elliptical Trainer. The AMT 100i truly goes about taking elliptical training to a totally different level by way of using the natural body motion of the user to be able to adjust both motion and stride length without the user actually needing to stop and make any certain adjustments to the machine itself. The Precor AMT 100i allows for a 0-27" stride length along with four different programs that target fat burning, manual and interval training and heart rate control as well. Regardless of what you are looking to get out of your workout, this elliptical trainer has you covered.
The dual action arms provide the user with being able to take total control of the resistance of both the upper body and lower body by providing you with the opportunity to provide yourself with a customized workout plan. From right out of the box, the Precor AMT 100i Elliptical Trainer offers you the capability to experience the variety and immediacy while giving you the experience of that natural feeling that you are running outdoors. The Precor AMT 100i gives you the opportunity to be able to customize your desired resistance and personal stride length at any time during the course of your work out.
What truly sets the Precor AMT 100i apart from the competition is that it provides you with the user-friendly capability to be able to alter your workout, as needed and desired which ensures that no two are ever the same. Whether you want to catch your breath, speed up or slow down, or just experiment with your pace, this machine has got you covered.
More Features of the Precor AMT 100i Adaptive Motion Trainer
Maximum stride length: 27 inches.
Minimum stride length: Climber motion (0 inches)
Pedal dimensions: 14.5 x 7.5 inches.
Height of foot at highest position: 18.5 inches.
Height of pedal at lowest position (step up): 5.5 inches.
Maximum pause time: 30 seconds.
Maximum workout time: 240 minutes.
Precor AMT 885 Elliptical Trainer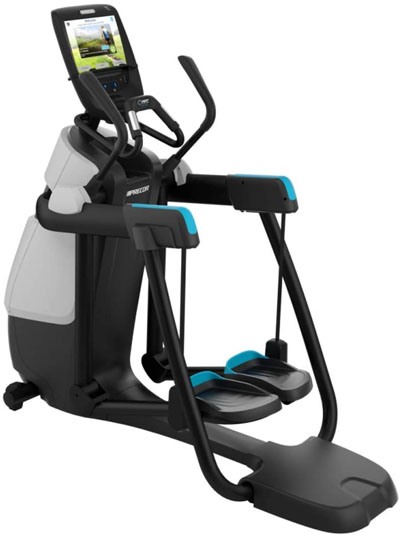 One of the things that sets the Precor AMT 885 apart from the Precor AMT 100i is that it boasts a larger load weight. Whereby the Precor AMT 100i boasts weights of upwards of 350 lbs. the Precor AMT 885 boasts a load weight of 400 lbs. Similar to the Precor 100i, the Precor AMT 885 has a ton of great features, and the same 27" stride length as well. The Precor 885 treadmill is the top-of-the-line elliptical trainer is sure to give you as equally good a workout as the Precor 100i. With the help of the converging crossramp, you will find that you can experience a natural elliptical path which provides you with the opportunity to have your feet converge toward the midline of the body, which is perfect to help you train and isolate specific areas of your body to assist you with training and giving you an effective workout overall.
More Features of the Precor AMT 885 Elliptical Trainer
Length: 80 inches / 203 cm
Width: 35 inches / 89 cm
Height: 73 inches / 186 cm
Equipment Weight: 422 lbs / 191 kg
Dual action total body workout
Natural adjustment: 0 to 27 inches
1-20 Resistance Levels
Tactile dome keys, Motion control, Numeric keypad built in to 15″ LCD Touch Screen Monitor
QuickStart
Recommendation
While both of these elliptical trainers are excellent options for anyone who is seeking to obtain a safe and effective workout overall. If you are seeking to get a workout that really gives you a sense of freedom and ultimately saves you from the boredom of working out in the same manner every single day, the Precor AMT 100i really gives you a lot of different range options to make sure that you have the capability to mix things up and target specific areas. However, if you are concerned about the weight load and you are looking for something a little bit more durable in terms of strength to carry a heavier load, you really should consider the AMT 885 overall.