Weight-conscious individuals and fitness enthusiasts need more comprehensive data than only body weight. Knowing the percentage of muscle mass versus body fat, you can more easily personalize workouts and meals. It's motivational to know that even if your weight isn't dropping, you're still gaining muscle mass.
Moreover, smart scales like the InBody H20N and H20B offer an easy way to view and track measurements. You can check your progress by glancing at your phone.
Let's review these two Bluetooth-connected smart scales to see which one best fits your needs. We'll discuss the pros and cons and the differences between them.
H20N Smart Scale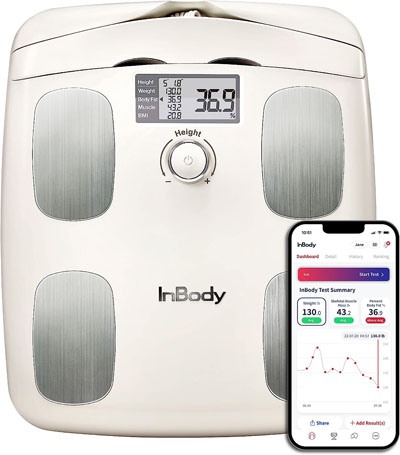 Open the mobile app and pair the scale over Bluetooth. When you're ready to begin the test, tap the scale once with your foot and wait until the display reads 0.0. Next, place your bare feet on the metal contact points and hold the bar in your hands. Make sure your arms aren't touching your body, and your legs aren't touching each other.
The test takes approximately 8 seconds while the scale sends a gentle electric current (that you won't feel) through your body. It determines weight, skeletal muscle mass, and body fat. That data is immediately available in the InBody app and can be synced with Samsung Health, Google Fit, and Apple Health.
Moreover, the scale and app measure both body fat mass and body fat percentage for a more accurate BMI. They even provide the Basal Metabolic Rate.
What's more, using a smart scale with a handlebar instead of one you merely step on is beneficial. The electrical current passes through the entire body for more precise measurements instead of guesstimates from only measuring the lower half.
Lastly, the H20N has fewer restrictions and limitations than some popular smart scales. It allows an infinite number of users and is suitable for persons weighing up to 330 pounds.
Pros:
Measures weight, skeletal muscle mass, body fat mass and percentage, BMI, and BMR.
More accurate because it assesses the entire body at once and allows for manual height input.
The measurements are visible on the scale's display, so the app is only necessary for syncing data with other services.
Uses 4 x 1.5V AA batteries that don't require frequent replacements.
No limitation on the number of users.
Suitable for persons between 22 and 330 pounds.
Cons:
Persons with an implanted medical device like a pacemaker may be unable to use a smart scale due to the electrical current – please consult a doctor first.
There are only two color choices: beige or black.
H20B Smart Scale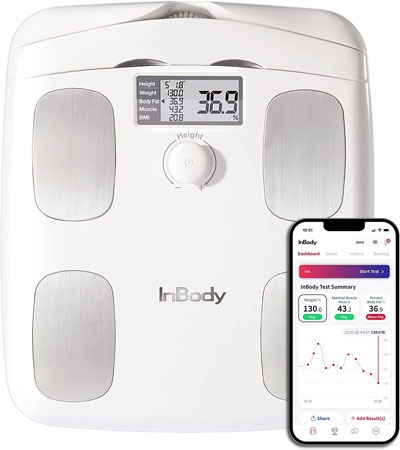 There are only two differences between the InBody H20N and the H20B.
First, they come in different colors. The H20B is available in soft white only, while the H20N comes in black or beige. This may have an impact if you'd like the scale to match your décor.
But the second difference might be more critical for some users. Because the smart scale sends an electrical current through the body, it can be risky for certain people to use. Therefore, it used to be necessary for manufacturers to seek FDA clearance. Typically, smart scales would be registered as Class II medical devices, proving they are effective and safe.
The H20B is indeed a Class II Medical Device with FDA 510k clearance. The H20N does not have this qualification.
Pros:
All the benefits of the H20N plus FDA clearance.
Cons:
Persons with an implanted medical device like a pacemaker may be unable to use a smart scale due to the electrical current, regardless of FDA approval – please consult with a doctor first.
There is only one color choice: white.
Recommendation
Now that you're informed about the InBody H20N vs. the H20B, which should you choose? Fortunately, there are only two factors to consider.
If you are concerned about the safety and performance of your smart scale, we recommend the H20B. It's a Class II Medical Device with FDA 510k clearance.
Then it's a choice between colors. The H20B only comes in white, but the H20N is available in beige or black.
No matter which you choose, we hope that your new smart scale helps you achieve your fitness goals.
Click here to purchase InBody H20N on Amazon.com
Click here to purchase InBody H20B on Amazon.com