At-home fitness has never been more accessible with the assortment of equipment available. With so many treadmills on the market, choosing the right one can be confusing. ProForm has two excellent models, the Carbon T7 and Carbon TL. They offer compact storage, high weight limits, and compatibility with a fantastic fitness program. We'll take an in-depth look at each model and then make a recommendation for each.
ProForm Carbon T7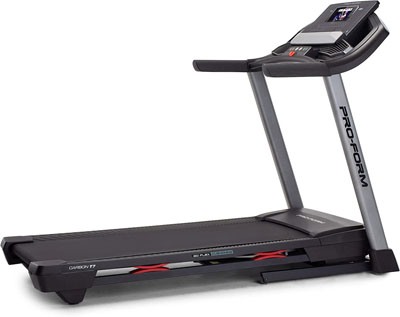 The ProForm Carbon T7 is designed to operate with an iFit membership, which comes separately after the included 30-day free trial is up. iFit currently features over 16,000 different classes that you can choose from, making your workout an enjoyable, entertaining experience.
In addition, the classes you choose can coordinate with your treadmill to increase the incline automatically, as it increases in the video. This allows you to enjoy a completely hands-free experience. Alternatively, you can override this feature and control the incline yourself.
The console features a 7-inch full-color touchscreen. This screen is centrally located within the console, and the buttons are directly beneath it. You'll have easy control with preset buttons for speed and incline adjustments. These buttons can be an excellent alternative to navigating on the smaller touchscreen.
You can also buy an optional heart rate monitor for the Carbon T7 to work with heart training exercises. Additionally, it's Bluetooth compatible, allowing you to connect your earbuds to the console to listen to the content and music.
If you prefer to use a tablet or other device instead of your touchscreen for entertainment while using the Carbon T7, it features a tablet holder that can accommodate most tablets, books, or iPads. This holder has a lifted edge that securely holds your device in place.
It can also accommodate two water bottles with a pocket on either side of the console. They will fit a regular water bottle or other essential items for your workout. When you finish training, you can easily fold the treadmill up for compact storage.
This treadmill has an excellent durability rating with a 300-pound weight limit. The deck is 55 inches, which is ideal for those under 6 feet tall, with a shorter stride, or who plan on walking. It features ProShox cushioning to make jogging and running much more comfortable than alternative models. It can also incline up to a 10% grade.
ProForm Carbon TL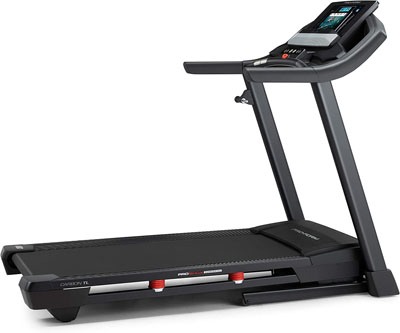 The Proform Carbon TL comes with a 30-day iFit trial membership that works in tandem with the treadmill. The instructors can control the incline as the class progresses, taking it anywhere from 0-10% as the course changes. You'll also have the opportunity to stream the programs to your favorite device, whether on or off the treadmill.
Like the Carbon T7, the Carbon TL has a maximum weight limit of 300 pounds and a deck length of 55 inches. One of the primary differences between the two models is the Carbon TL's smaller touchscreen, which only measures five inches.
The Carbon TL allows you to set up 20 programmed workouts that best suit your needs, making it even easier to get started. Additionally, the treadmill is compatible with streaming music to make your workouts more enjoyable.
The 5-inch touchscreen allows you to track various metrics, including calories burned, distance, speed, and many others. In addition, you can connect a heart rate monitor, which is sold separately, to track your progress during heart rate-directed exercise. You'll also enjoy less impact stress with the ProShox cushioning that makes jogging and walking significantly more comfortable.
It is a foldable treadmill, allowing you space-saving options. Additionally, it comes with wheels that provide easy moving ability despite the heavier weight of this machine.
Our Recommendation
Both treadmills offer excellent features, including durability and functionality. The Carbon T7 features a larger touchscreen and Bluetooth compatibility for your earbuds. We recommend this model for those under 6 feet tall who are entry-level joggers.
On the other hand, the Carbon TL features a smaller touchscreen but is fully compatible with your favorite device to stream workouts. Additionally, it is compatible with streaming music, increasing your entertainment value with this model. We recommend the Carbon TL for those under 6 feet tall who are entry-level joggers.
Click here to purchase ProForm Carbon T7 on Amazon.com
Click here to purchase ProForm Carbon TL on Amazon.com