In this review we'll go through some of the best upright exercise bikes available to buy right now. We'll give you the highs and the lows as well as which we think is the best overall. To help you even further in makingyour purchase we've also put together a brief buyer's guide to help you understand some of the things to consider when buying your next uprightexercise bike.
So, without further ado, let's get going.
Best Upright Exercise Bike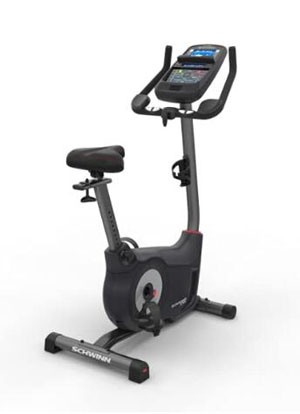 If you're someone who's maybe a little reluctant to start exercising as you think it's going to be nothing but blood, sweat, and tears, I urge you to take a look at this wonder. The Schwinn 170 Upright Bike is more than just another piece of exercise equipment. It's a place to sit down and forget about the world while you work your way through a variety of fitness regimes to suit your needs.
There are tons of great features to enjoy with this bike. You really do get your money's worth. For starters, it has 25 different levels of resistance to work with, meaning you can work at your own pace and increase it when you're ready. Another cool feature is it has a heart rate telemetry function that keeps an eye on your vitals as you exercise.
In addition to all of that it features the amazing DualTrack console. This computer is found on various Schwinn and Nautilus models of this caliber and is an incredible piece of technology. The console uses two backlit screens in which to display your workout data clearly. It also has a total 12 different workout profiles including both fun rides and challenges to help make your workout more enjoyable. You can even link it to your Schwinn Connect or MyFitnessPal account to evaluate your workout more closely.
The Schwinn 170 measures in at 55.6"H x 21.4" W x 41.3"L and weighs just shy of 65 pounds, which is a little heavy for an exercise bike. Unfortunately, it's not foldable either. So, you will need to know where it's going to go pre-delivery and keep it there.
All-in-all, it's a pretty versatile bike that's fit for anyone up to around 300lbs in weight. The quality of the bike and all its integrated components is second-to-none, as is the feel of the bike when in motion.
Pros:
DualTrack console
25 resistance levels
10-year frame warranty
Cons: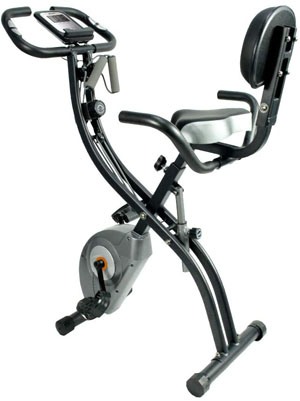 The ATIVAFIT Stationary Exercise Bike is a great way to give your heart a healthy workout. And, you may even shed a few unwanted pounds at the same time.
It may not look the most comfortable piece of exercise equipment out there, but didn't you ever learn that looks can be deceiving? Once you're on this bike and in mid workout, you'll wonder what all the fuss was about. The padded seat has been made using ergonomic PU leather and is quite possibly one of the comfiest cushions to be bound on an exercise bike.
Another huge advantage this bike has to offer is that it's fully adjustable, and thereforesuitable for a wide range of people.The handlebars can be adjusted vertically to suit users up to around 6'5" in height while the seat can be adjusted both vertically and horizontally to enable you to achieve maximum comfort.
With this bike, you get 8 differentresistance levels to choose from, so there's something for everyone to be enjoy.All the controls are smooth, and don't feel clunky in the slightest. The LCD monitor is very clear to read and displays all your vital workout stats, including things like speed, distance covered, and calories burned.
Other cool features it has to offer include anti-slip, caged pedals, a water-bottle holder, an IPAD holder, and transportation wheels which make your life even easier when you need to store the bike out of the way. It even comes with a lifetime warranty for replacement parts, which is pretty decent.
The only slight downside is that despite its sturdy steel frame and 35lb flywheel, it has just a 265lb. weight capacity. But, it's lightweight (just 41.9 lbs.) and foldable if you do need to move it around or store it elsewhere when not being used.
Pros:
Super comfy seat
Easy to transport
Integrated IPAD holder
Cons: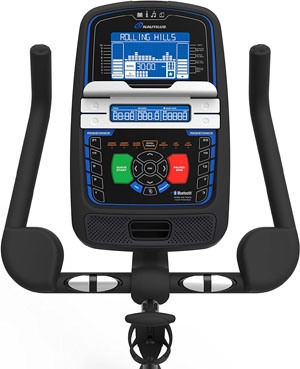 With this bike as your aide, never before has exercising been so fun. Another of the more high-end models on this list, the Nautilus U616 Upright Bike makes light work of exercising and transforms it into an activity you can't wait to do again.
It features an Explore the World app that allows you to digitally immerse yourself into a realm of virtual reality with numerous courses and trails to enjoy. Three worlds come included as standard while more are added if you subscribe to the app. In addition to the app, there are 29 unique training programs you can opt to use, depending on your fitness goals. Choose from various preset programs including interval training, optimizing cardio health, or even weight loss.
One of the best selling points this bike has to offer in addition to the amazing scenery, is that you can really feel it working. The bike's 22lb. flywheel ensures your workout is smooth and consistent yet challenging enough to do some good. The sturdy frame stays put even when cycling at top speeds, and it has a 300lbs. weight capacity.
Assembly is pretty straightforward and can be done in less than an hour. And in terms of warranty, it comes with 10 years on the frame, 3 years for parts, and 1 year for electronics. You also get a few extra features thrown in such as stereo speakers, a cooling fan, and a side water bottle holder. Unfortunately, the Nautilus U616 is not a folding bike. However, it does have transport wheels to make your life easier when storing it away.
Overall, it's very similar to the Schwinn 170. It too features 25 levels of resistance to choose from, all offering a different degree of intensity.
Pros:
Explore the World app
Good 10-year warranty
300lbs. weight capacity
Cons: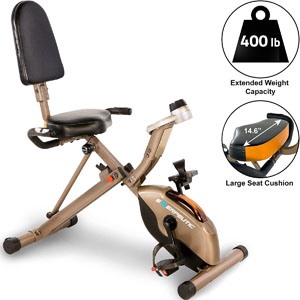 If you're looking for a top-quality exercise bike that's well built, easy to use, and won't break the bank, be sure to check out this model from Exerpeutic. The Gold 525XLR is a great all-rounder exercise bike that's suitable for just about anyone wanting to maintain or increase their fitness levels. It's also a fantastic weight loss tool.
One of the biggest selling points this bike has to offer is the generous weight limit. The average modern exercise bike generally has a weight capacity of around 300lbs -maybe 330lbs if you're lucky. But thanks to using a few extra layers of steel, this bike is quite capable of catering for anyone weighing up to 400lbs. It has large pedals to accommodate pretty much any foot size, with attached safety straps to ensure you have a good grip.
When it comes to the actual workout, you get 8 levels of magnetic resistance to choose from which is adjusted quite simply by turning the tension dial. The seat is of a decent size and is well padded. While the backrest is fully adjustable to accommodate people of varying heights between 5'2" – 6'5". There's also a large LCD display that's easy to operate. It shows you things like your speed, distance travelled, and calories burned and will save this date to enable you to monitor your progress as often as you'd like.
The assembly of this bike is a little more difficult than some of the others on the list and is best attempted by two people. Butat least it comes with all the necessary tools to be able to do it. And lastly, anyone that's lacking in space to store their equipment when not using it needn't worry either, as it's foldable and compact.
Pros:
Generous 400lbs. weight capacity
Great for those with minimal space
Compact design
Cons: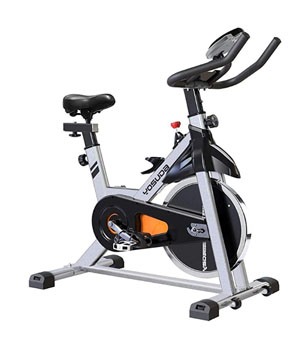 Exercising doesn't have to be a chore, and it won't be with this bike to help. The Yosuda Indoor Cycling Bike is a fantastic example of a modern exercise bike. It's sleek, it's sexy, and it works extremely well.
You can see from the very first glance of this bike that quality is important. With a 35lb. flywheel and heavy-duty steel frame this bike provides a great deal of stability while in use, even at top speeds. It features a belt driven system so is much quieter than a chain model, providing a more enjoyable ride for both you and your neighbors.
In addition to being a very well-made bike, it also looks and feels fantastic. It has a modern design that will look good just about anywhere. And the 4-ways padded seat is one of the most comfortable you're likely to come across. The pedals are caged to ensure safety and comfort, while the adjustable resistancefeature enables you to simulate real road riding.
As with most modern exercise bikes, this model also features an LCD screen that's clear and easy to read. This displays all your vital statistics for you to monitor and improve upon as you see fit. Another bonus it has to offer is the IPAD holder which allows you to listen to music or watch TV as you power through your workout.
You also get some added extras along with the bike itself. There's a bottle holder in which to store your favorite drink and transportation wheels that make transporting of the bike a breeze.
The only real downside is that at just 270lbs., the weight capacity is a little on the low side.
Pros:
Easy to adjust resistance
Sleek, modern look
Sturdy transportation wheels
Cons:
Only 270lbs. weight capacity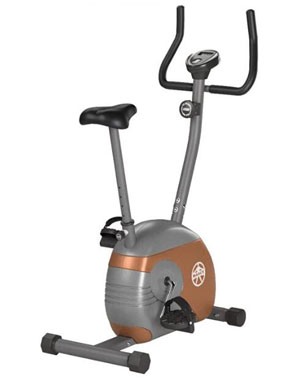 If you're looking for an exercise bike that's both user-friendly and effective then be sure to take a look at the Marcy ME708 Upright Exercise Bike.
A lot of modern exercise bikes are packed full of so many features, you spend more time playing around with the settings then you do actually working out. With this bike, there's less focus on all the bells and whistles and more focus on the actual workout. The ME708 uses magnetic resistance to give the user a smoother experience. There are 8 preset resistance levels to choose from which are easily selected using the dial located on the front frame.
The quality of the ME708 is superb, built using top-quality components. Its frame is made using 14-gauge, powder coated, steel tubing, providing the user with a solid structure that's both scratch and chip resistant. The seat is easily adjustable to accommodate users of all sizes, and it also has a basic computer screen that's easy to read and easy to use. It's there to let you know how fast you're going, how far you've travelled, and how many calories you've burned during your workout.
In terms of storage, it's not a bad bike to own if you're limited in space. While it may not be a folding bike, it's slimline design and transport wheels ensure that portability is effortless. So when you are done with your workout you can simply roll the bike out of sight until next time.
You don't get a huge warranty with this item. It's just 2-years. There's no fancy color screen, or a million and one different functions to mess around with either. However, what it can offer is an enjoyable and stress-free workout. There's no overly complicated computer to contend with and even the assembly of this bike is straightforward.
Pros:
High quality components
8 magnetic resistance levels
User-friendly design
Cons: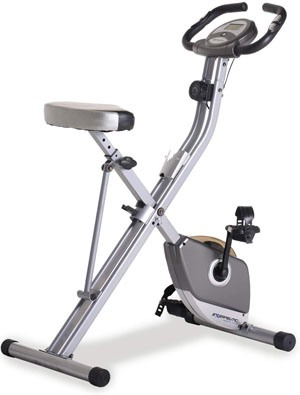 The Exerpeutic Folding Upright Exercise Bike is one of the most popular selling models out right now, and after closer scrutiny it's clear to why.
When it comes to performance, there are 8 different tension levels to work with. While that might not sound much in comparison to some of the other models on this list, it's enough to provide you with a decent workout.And, thanks to the bike's 3-piece crank system you get a smooth and consistent pedaling motion throughout.
Another great feature this bike has to offer is that it has a pretty large, easy to read LCD display that shows your time, speed, distance, pulse, and more. Your heart rate is monitored too using hand pulse sensors that are built into the handgrip.
In addition to it being quite technologically advanced, it's also so incredibly comfortable. It has a seat cushion that's larger in size than most standard seats, measuring in at 14.6" in diameter. And, it's easily adjustable to fit perfectly anyone sized between 5'3 and 6'1 in height. This bike was even recommended as a Men's Health 'Editor's Choice' product.
Not only is this bike foldable, but it also has transportation wheels. Talk about double value for money! Assembled, the Exerpeutic Folding Upright Exercise Bike measures in at 31" x 19" x 46", while folded it's just 22" x 20" x 55.5". And while at 39 lbs., it's one of the lightest models on this page, so the fact that it has transportation wheels, is just a bit of a bonus.
As you can see, it's a pretty cool bike. It's easy to assemble, easy to use, and easy to store. The only realletdown is the LCD display is temperamental and could be a little bigger.
Pros:
Extremely comfortable seat
Easy to adjust
Lightweight
Cons: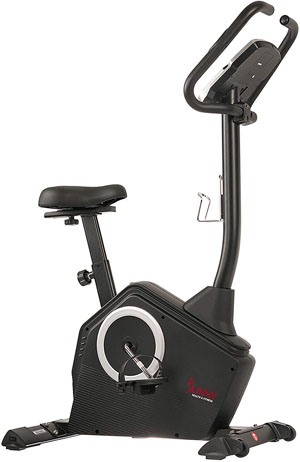 While there are a lot of good exercise bikes out there that are modern in functionality and effective in their performance, so many are let down by how uncomfortable they are. But, the Sunny Health & Fitness Upright Bike ain't one of them.This bike is so comfortable and well cushioned that you'll find yourself not wanting to move.
In addition to being super comfortable, it's also a solid workhorse that's been designed to handle long-lasting workouts.It consists of a 6.6lb. flywheel and features a smooth belt-drive mechanism to ensure your workout is less noisy and more enjoyable.
The Sunny Health & Fitness Upright Bike comes with 24 pre-installed workout programs for you to endure. Among these programs you'll find awesome features such as a BMI calculator, time and distance presets, 12 different resistance-based workouts, and 5 heart rate-driven workouts. The LCD screen is pretty big and very clear, allowing you to monitor your performance in real time.
Another really cool feature this bike has to offer is that it's fitted with pulse sensors that keep a check on your heart rate while exercising. This is a really good feature to have as it prevents users from overdoing it.
To sum it up, this exercise bike is a true force to be reckoned with. It's amazing quality, comfortable to use, and has enough bells and whistles to keep you entertained for hours. The only slight let down is that it's quite heavy. And while this is great for adding stability to the bike while in action, it can be a pain when wanting to move it (even with the wheels intact).
Pros:
Great add-on features
Wide range of pre-set programs
Comfy seat
Cons:
If all you're looking for is a basic exercise bike in which to keep fit or shed some pounds, and you're not too fussed about having millions of features and functions to play around with, then the Marcy NS654 could well be the model for you.
This bike offers 8 preset tension levels in which to test your fitness. It uses a magnetic tension system in which to create resistance, which means that as well as being highly effective, it's also one of the quietermodels out there. The tension is easily adjustable by a quick turn of the knob located underneath the computer. The LCD screen is pretty basic, but it's quite large and therefore easy to read. On here you can keep an eye on things like distance traveled, speed achieved, or the number of calories burned during your workout.
When it comes to comfort, there's no skimming here. The pedals are a decent size and are fitted with straps to secure your feet while working out. While the seat is also pretty large and made using a high-density foam to ensure maximum comfort while riding.
The assembly of the Marcy NS654 Exercise Bike is hassle free and can be done single handedly within an hour. And when you're finished working out, the packing away of it couldn't be easier. Simply fold down the bike and use the attached transportation wheels to slide it out of the way.
So, it may not have all the belles and whistles that some of the top-end models have, but then it's a fraction of the cost. What you do get instead is a quiet and reliable exercise bike that's ideal for just about anyone.
Pros:
Quick to assemble
Easy to store
Great value for money
Cons:
Pretty basic functionality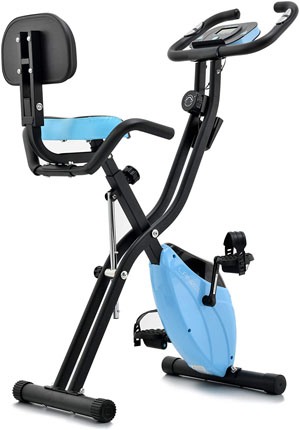 The Lanos Folding Exercise Bike is a fun and modern exercise bike that's suitable for anyone weighing up to 330 lbs. There are 10 levels of magnetic resistance to work with, and because it works off a magnetic tension control system, it's one of the less noisy exercise bikes out there.
For such a compact model, the Lanos Folding Exercise Bike is quite a beast. All the components are well-made and there's no wobbling when you're in action. It also has an extremely comfortable cushioned seas and backrest, which is something not all upright exercise bikes have. It's also one of the more aesthetically pleasing models around rightnow, with a splash of vibrant blue in all the right places. Added extras include anti-slip pedals to ensure you get a good grip throughout your ride; pulse sensors to keep an eye on your vitals; and a phone/tablet holder. Who said exercising was boring?
One of the bike's biggest selling points is that it can fold up and be stored away easily, so is ideal for anyone short on space. Measuring in atjust 22" x 20" x 55.5" when folded, you shouldn't have too much trouble finding somewhere to store it. Another huge bonus is the LCD screen is large, making it pretty easy to monitor your stats, real time.
Assembly is pretty straightforward and can be done in around 30 minutes. And, it's about half the cost of a Schwinn exercise bike. So all-in-all, not a bad buy. If we were to be really picky, the pulse sensor could do with an upgrade as is a little temperamental. But other than that, a big thumbs up!
Pros:
Extra cushioned seat
Heavy-duty components
Very quiet
Cons:
Pulse sensor temperamental
Recommendation
While it can be quite daunting shopping for an exercise bike when there is so much choice available, as long as know what the main feature or quality of your bike should be, you'll be fine. For example, if your someone who is a bit of a geek and can't get enough of those gadgets, the Sunny Health & Fitness Upright Bike may be just the model for you. It's looks good, it feels, good, and it has enough bells and whistles to keep you entertained (and exercising) for hours.
If you're new to the world of exercising and are on the lookout for a bike that's user-friendly to start you off nice and slow, the Marcy ME708 Upright Exercise Bike is a good choice. It's pretty basic and doesn't even have a screen. However, it does the job and is easy to use.
But, if it's the best upright exercise bike you're looking for, then our first choice would be the Schwinn 170 Upright Exercise Bike. It's stable, uses a DualTrack console in which to record and monitor your data, and it offers 25 different levels of resistance. The quality of the bike and it's components are also first class. But should anything be amiss, at least you have a 10-year warranty to keep you covered.
Buyers Guide
With so many different upright exercise bikes available for sale, it can be daunting knowing which is best to suit your needs. One way you can narrow down your final selection is by thinking about what kind of features and functions are found in these machines and which are the most important to you.
Resistance Method: In order to have an effective bike workout, you need to experience a good level resistance. If these levels are too low, your heart rate will stay the same, your muscles won't get the workout they need, and you won't be gaining any real benefit. There are various differentresistance systems around, but the one most commonly used in modern exercise bikes is magnetic resistance. The way magnetic resistance systems work is by using a series of magnets attached to the flywheel in which to create resistance. When resistance is increased the magnets get pushed closer to the flywheel. This creates friction and causes the flywheel to slow down. As resistance levels are lowered, the magnets move away, releasing the friction, and allowing the flywheel to spin faster. With this kind of system, the heavier the flywheel, the smoother the ride.


The other main type of resistance used in exercise bikes is air resistance. Quite often you'll find these bikes are paired with movable handles in which to deliver a full body workout. Rather than use a traditional type flywheel like those used in magnetic resistance bikes, air resistance exercise bikes use a fan wheel instead. The way they work is as air hits the blades of the fan, it creates resistance. Therefore, the harder you press the pedal, the more the resistance. While bikes fitted with air resistance systems opposed to magnetic resistance are generally noisier, they offer more resistance, hence why they are so popular among professional athletes.
Control Method: Knowing how to properly use your bike is imperative. Most modern exercise bikes are controlled by some form of control module or central console, hence why you see the screen. These modules greatly from bike to bike. While some have more buttons and dials than you see in a helicopter, others are more basic with just one or two navigational keys. If you're someone who's not particularly technologically minded, you may want to avoid some of the more modern, higher-end models available as these tend to be overloaded with technology. Instead, look for a mid-range model. It can still be new, but maybe try and avoid one with a million and one functions.
Weight capacity: While this isn't so much as a feature to consider, it is something you will need to bear in mind when making your purchase. Exercise bikes have varying weight capacities, with some being a lot more generous than others. The reason they exist is to try and keep any user safe and is based upon the strength of both the bike's frame and connected components. To buy a model that's not equipped to handle your weight is as good as not having one at all.
Height range: As with the weight capacity, all decent exercise bikes have an advisable height range in which it's suitable for. For those of you that are of average height, of around 5'2" – 6', this will never be an issue. But for anyone falling outside these parameters it gets a little trickier, but nonetheless important. Using an exercise bike that's too small will leave the user feeling cramped and uncomfortable. While those attempting to use a bike that's too big may struggle to reach the handlebars or pedals, making it a massive safety risk.
Portability/Storability: Not everyone is lucky enough to have space for a gym (or even just an upright exercise bike) as a permanent fixture within their home. Therefore when shopping for your next upright exercise bike you need to ensure you find a model that's going to fit well in the space you have and is not too easy to store away when not using it, if you need to. The most obvious feature to look for in this situation is whether the bike is foldable. Having a foldable exercise bike takes all the space concerns away. Most will pack up quite small and will fit almost anywhere.



If the model you've got your eye on doesn't fold up, then check to see whether it has transport wheels. While not essential, transport wheels are always going to make your life that little bit easier, especially if the bike is a little on the heavy side. These models obviously need a little more room to store than those that are foldable. But at least with wheels, they're easy enough to move.
Added Extras: Everyone likes to feel that they're getting great value for money in the goods that they buy. And while it's not a deal-breaker, it's also worth having a look what added extras are offered alongside the bike itself. One accessory that's particularly useful is a water bottle holder. Keeping hydrated when exercising is so important, so it's good to have somewhere convenient to store your favorite beverage. Another good added extra to look for is those that have heart rate monitors built in. Quite often these are in the form of tiny sensors that are built into the handlebars. These sensors link up to the control module to display your heart rate on the screen. Other accessories you're likely to come across include integrated speakers so you rock out while working out; a media tray in which to place your smartphone or iPad; a USB charging port to keep your devices powered during your session; and Bluetooth connectivity to link up and monitor your progress online.
We hope you found the above useful and are now one step closer to making your next upright exercise bike purchase. Just remember to choose a bike that fits your size and shape, and don't be fooled by an overloading of gadgets. Quality not quantity!